Hi – Lobby Day was a success with over a hundred participants from 23 branches and several "guests".  The panel was a nice addition and made the Zoom meeting feel like an in-the-room AAUW conversation. We have the videos of each speaker/session if you missed out. See all LINK to YOUTUBE —>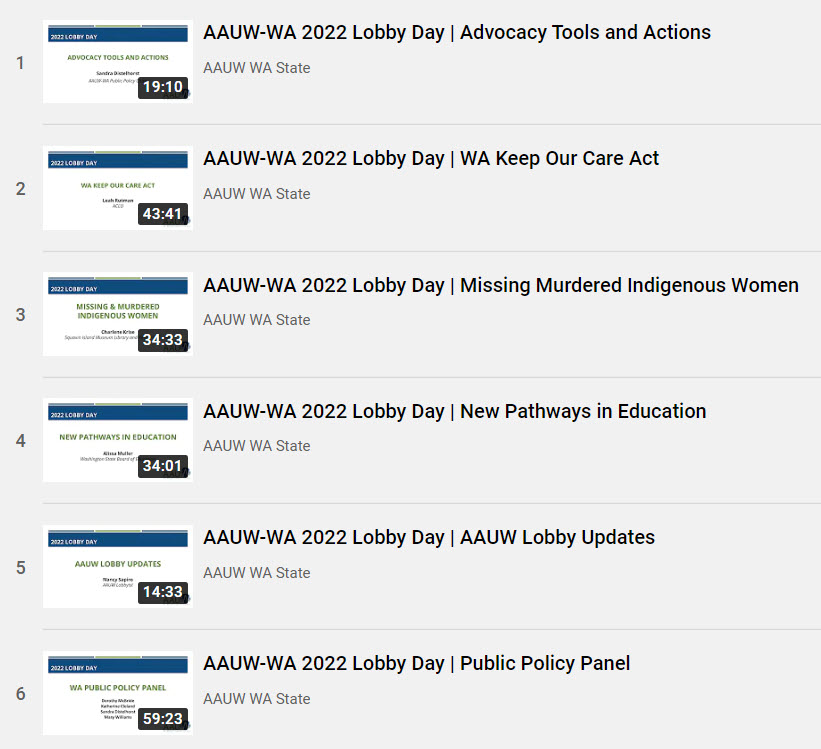 Monday January 24, 2022
8:30 am – Opening
12:30 – Closing
Leah Rutman, ACLU – WA
Charlene Krise, Executive Director, Squaxin Island Museum Library and Research Center
Alissa Muller, Director of Mastery-based Learning, Washington State Board of Education (SBE), talk about New Pathways in Education – click to read more…
Nancy Sapiro, AAUW Lobbyist
Public Policy Panel
Preview of two of the bills featured on Lobby Day
Keep our Care Act SB5688, sponsored by Senators Randall-D and Rolfes-D. The companion bill HB1809 is sponsored by Representatives Simmons-D and Berry-D. This bill address hospital and other health system entities mergers and the impact on access to care, increased community costs and decreased quality of care. Read the Keep Our Care Act coalition one-pager.
MMIW/P HB1571 Missing and Murdered Indigenous Women concerning protections and services for indigenous persons who are missing, murdered, or survivors of human trafficking. Sponsored by Representatives Mosbrucker-R, Dye-R, and 21 other legislators. This is a strong bipartisan bill introduced at the end of the 2021 session. Washington State Patrol released a report in 2019 on missing and murdered native women. The United Indian Health Institute (Seattle) released their own counter report We Demand More. Governor Inslee appointed a Washington State Missing and Murdered Indigenous Women and People Task Force headed by the Attorney General.