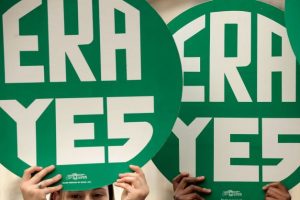 AAUW-WA Public Policy State Team is supporting actions to ensure the Equal Rights Amendment (ERA) is recognized as the 28th Amendment to the US Constitution.
With majority support for the ERA in both the House and Senate, the time is now to advocate.
One: Ask President Biden to direct the Archivist to publish the ERA. It's easy with this pre-drafted letter. Click on Biden letter here to send your letter to President Biden. We did!
Two: Ask Senate Majority Leader Schumer to schedule a vote on the ERA. We did! It's easy to add your name. Click on Public Letter here.
Three: Send an email to your Senators and Representatives. Click on ERA Coalition letter. You can add your own message and your own ERA story. We did!
Want to do more? Tell us "Your ERA Story." We will put together an AAUW-WA member ERA Storyboard for our website (your privacy will be protected). Email publicpolicy@aauw-wa.org with your ERA Story.
Background
The Equal Rights Amendment has fulfilled all the requirements set forth in Article V but has yet to be published in the Constitution. Part of that work includes asking President Biden to instruct the U.S. Archivist to publish the ERA. AAUW is also working with ERA champions in Congress to remove the time limit that has been used as an excuse to not publish the Amendment to the Constitution (HJ Res 17/SJ Res 1).
The House has already voted to remove the time limit twice, but the Senate has yet to do so, despite SJ Res 1 having bipartisan support with 52 co-sponsors in the Senate (and the support of a vast majority of Americans). Our goal is to get Senate Majority Leader Schumer to schedule a vote on this critical issue before the midterm elections.