Contact us at publicpolicy@aauw-wa.org
PUBLIC POLICY LEADER RESOURCE MANUAL AVAILABLE
Click here to view/download the National AAUW manual's Endorsement Section (6 pages)…
CURRENT NEWS
2022 Lobby Day and week of lobbying efforts by Washington state AAUW branches – click here…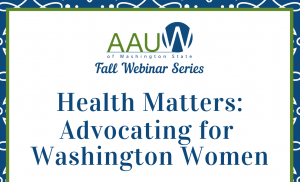 2021 Women's Health Webinar Series – click here…
2021 Elections include school board candidates. What is AAUW advice on this important EQUITY issue and actions? Click here…
See our Legislative Update reports from Olympia WA which include RESOURCES and LINKS to be informed and an ACTIVIST for issues within our AAUW Mission – click here…
As reported by Karen Anderson, Public Policy Director publicpolicy@aauw-wa.org, in the AAUW-WA-Evergreen-Leader-January-2021.
What Is a Women's Issue? —
Women have faced systemic oppression in all aspects of their lives.  Moreover, the issues tied to that oppression are connected to one another.  Economic security is tied to educational opportunity, access to affordable child care, reproductive rights, tax structures, employer policies, social security policies, and a multitude of other issues.  Deep-seated cultural biases make it difficult for women to seek opportunity, justice, and safety in a society where institutional practices protect those who discriminate against them and those who commit violence against them.  For these reasons, positive and progressive government policies are essential to women's empowerment.
Given the complexity of women's social disadvantage, what counts as a women's issue?  Historically, AAUW has envisioned a society in which educational opportunity and workplace equality center visions for social change.  This has meant that we have long supported strong public schools and systems of higher education as fundamental women's issues.  AAUW has also focused on equal pay as essential to women's economic security.  In recent years, that focus has broadened to include minimum wage laws, family and medical leave policies, and relief from student loan debt as crucial elements in women's economic security.  In addition, we have recognized that public funding for child care will be necessary to women's wellbeing.
Moreover, if a problem affects women substantially more than men, it is a women's issue.  As the AAUW study of student loan debt reveals, documenting the ways that practices disadvantage women is a necessary step in addressing the obstacles to their wellbeing.  Barriers to degree achievement, fraudulent student lender practices, and the low wages of many women, whether they complete a degree or not, combined to saddle women with a disproportionate share of student loan debt.  Placing women's lives in context also means acknowledging that the majority of the poor in this country are women and children and that reducing poverty is, therefore, a women's issue.  In short, women's issues have complex causes and remedies often entail tackling all at once, whether they seem like "women's issues" or not.
In the state of Washington, women face specific obstacles to economic security.  We have the most regressive tax structure in the country.  This means not only that women pay a disproportionate share of their incomes in taxes that benefit all citizens of Washington, but also that the policies they need to provide them with economic security will fail because the state lacks the resources necessary to fund those efforts.  For that reason, AAUW-WA supported legislation to provide sales tax subsidies to a broader group of the poor in the last session.  As we did so, we recognized that this was only a small step toward the progressive tax structure essential to women's progress in this state.
In 2021, the state faces a significant budget shortfall because of the COVID recession.  This means that funding for higher education, child care, health care services, and other women's needs will be at risk unless the state passes new sources of public revenue.  AAUW-WA will be watching these interrelated issues very closely because austerity measures harm women, especially women of color, by denying essential services when the need is greatest and by impeding the recovery that will, at a minimum, restore barely adequate employment options for women.  For more on this issue, see the Center for Law and Social Policy on racial equity and state budgets at https://www.clasp.org/issues/racial-equity.  Their arguments generally also apply for women.  I hope that someday progressive organizations will see gender equity as a clear and urgent part of their mission and that feminist organizations will define women's issues broadly.  In the meantime, we must create a broad feminist vision for AAUW and build coalitions that will further those goals.
Defining a public policy agenda also requires attention to the differences that matter in women's lives, including those created by racism, social class, age, marital and maternal status, and place of residence.  Priorities in the legislature in 2021 will be limited and focus particularly on racial justice, economic recovery, and public health in the post-COVID era.  We must be mindful of these as we define priorities and craft our arguments for our bills.  We must also use our organization to raise legislators' awareness of gender equity as an essential part of their mission.
Finally, we will sometimes support bills that are a hard sell with the legislature.  That was true of revisions to equal pay law before 2019 and is now true of some efforts to address our tax structure.  Even so, it is important to keep public attention focused on women's wellbeing broadly understood so that shifts in the economic and political context can be used to leverage changes in the future that are not possible in the present.
---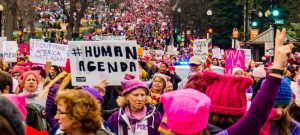 Washington State's Legislative Changes – Respond to the #Me-Too Movement
Washington State remains on the forefront of history by adopting a series of bills designed to expand equal pay protections and enhance protections for employees' subject to workplace discrimination or harassment. In Olympia spring 2018, 170 women working in the State Legislature signed a letter calling for a shift in workplace culture. The letter was addressed to Democratic and Republican leaders and was signed by a bipartisan group of current or former lawmakers, lobbyists and legislative staffers. A letter prepared by the Northwest Women's Law Center that is worth reading. Use this link: https://nwlc.org/resources/womens-community-sends-statement-of-values-letter-to-president-trump/