**2023 WA STATE LEGISLATIVE INFORMATION
You can review your state legislators' profile and voting record using our State Legislature BillTrack50 Scorecard. WA State Legislative Scorecard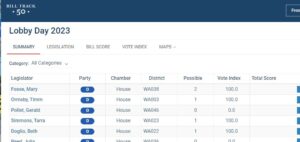 ======= 2022 INFORMATION BELOW ========
This web page contains both Federal and WA State information. Please scroll down the page.
FEDERAL VOTER INFORMATION
New 2022 Congressional Districts Map — Redistricting changed many congressional and/or legislative districts. Go to the Find My 2022 District to confirm your new district.
FYI: As part of our AAUW WA Public Policy and Advocacy effort during election season, see under this web area LEGISLATIVE UPDATES REPORTS. There you can review your congressional elected officials' profile and voting record using our Congressional BillTrack50 Scorecard.
Congressional Races – Head-to-Head Voter Guides
AAUW-WA uses the AAUW Action Fund to provide Voter Education Guides on Federal Elections including Washington Senate and House races. You can find Washington State Head-to-Head Federal Voter Guides on the AAUW Action Fund page.

AAUW-WA uses the AAUW Action Fund Head-to-Head Voter Guide template for state legislative races. We "customize" the national template using examples of state legislation on issues important to our members. Branches can help score and review the state senate and house race guides and post their districts guides here.
Secretary of State 2022
Senate Legislative District 26 (Randall and Young)
Senate Legislative District 42 (Sefliz and Shewmake)
House Legislative Districts [coming soon]
Information on how to create a Head-to-Head Voter Guide – click Aug. 2022 AAUW-WA Public Policy presentation/ OR AAUW Voter Issue Guide