Citizen action is how we change public policy in our democracy.  This section gives you information you need to make your voice heard.
Join AAUW's Two-Minute Activist.  It's an easy way to contact your representatives on issues AAUW cares about.
Keep track of Washington state legislative action through our AAUW-WA Legislative Updates.
ELECTIONS 2021
Click to find district candidates and search by county…
Go to your county elections website…
The League or Women Voters has a useful flyer: How to Choose a School Board Candidate…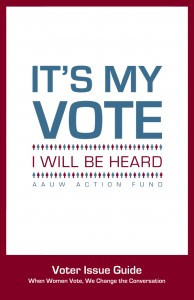 See national AAUW voter issue guide… which provides tips on how to identify a candidate's position and sample questions to ask candidates.
Contact us: publicpolicy@aauw-wa.org