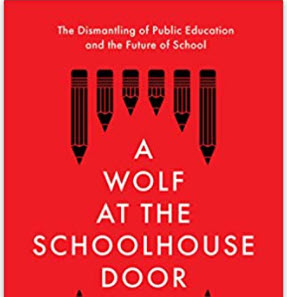 AAUW-WA annual conference on Saturday, April 9, 2022. The primary focus of that meeting will be strengthening public education while making it more equitable for girls, students of color, and LGBTQ students. To that end, we have invited nationally recognized education journalist Jennifer Berkshire to serve as our keynote speaker. She will be supplemented by education experts from the state of Washington, who will reflect on her message and discuss what Washington needs as it reacts to the problems created by the pandemic and as it moves to improve schools generally.
Berkshire is the co-author, with Jack Schneider, of A Wolf at the Schoolhouse Door: The Dismantling of Public Education, [website click here… ] a very important book on current school politics. She is also the co-host and co-producer of Have You Heard, a monthly podcast on education issues. Her articles and interviews on the debate over the future of public education have appeared in Salon, the Washington Post, the Baffler, the Progressive and on EduShyster.com, a blog that she created.
Obviously, Berkshire is a major author/expert on a significant topic central to the AAUW mission. Her message is new to many and highlights problems that will require innovative policy approaches. Citizen awareness is crucial if we are to avoid the pitfalls that Berkshire and Schneider document and analyze.
To help our members familiarize themselves with the issues she will address, we will be organizing a statewide book group meeting in late March focused on A Wolf at the Schoolhouse Door. Alternatively, you can center a branch book group meeting on her work.