AAUW of Washington State is made up of great, fun loving members who belong to branches from the tips of the Olympic Peninsula in the west to the Palouse and Tri-Cities areas in the far southeast region.  We are rural and urban, big and small.  We are even virtual with our online branch.  Our activities reflect the diversity of our communities – book sales, get-out-the-vote campaigns, fundraisers, scholar programs – all serve the needs of our members, their communities, and the mission of AAUW.  We are different, but we are the same, and we enjoy getting to know each other at conventions and other state meetings.
We have been around a long time.  Our branches – Bellingham, Seattle, Tacoma, Spokane, and Yakima – have already celebrated their 100th anniversaries.  We are proud to call ourselves AAUW-WA members!
AAUW-WA has local branches [click for list] across the state with approximately 2,000 members.  There are also about 900 National Members within Washington State.  AAUW-WA is managed by a state board consisting of elected and appointed officers and the presidents of each of its branches.
State-sponsored activities include an annual state convention, a summer or fall leadership conference, and Legislative Action for Public Policy and Advocacy.  AAUW-WA maintains the state website, publishes a quarterly newsletter and supports lobbying efforts for state legislation. The state organization engages a legislative consultant to represent its interests in Olympia.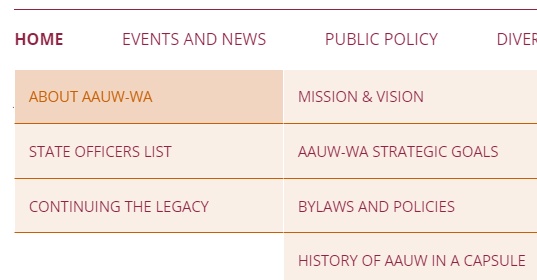 AAUW-WA has a long history of leadership with the state and within our national AAUW organization.  AAUW-WA has worked for equity for women and girls since the founding of the Seattle branch in 1904.
See more ABOUT us on this website