AAUW-WA is a nonpartisan organization. AAUW-WA supports bills sponsored by Democrats and Republicans that fit within our Public Policy Priorities. Each year, AAUW-WA hosts Lobby Day, which is a workshop at which the AAUW-WA Public Policy team explains these priorities, hosts several speakers, and explains how our lobbying efforts work.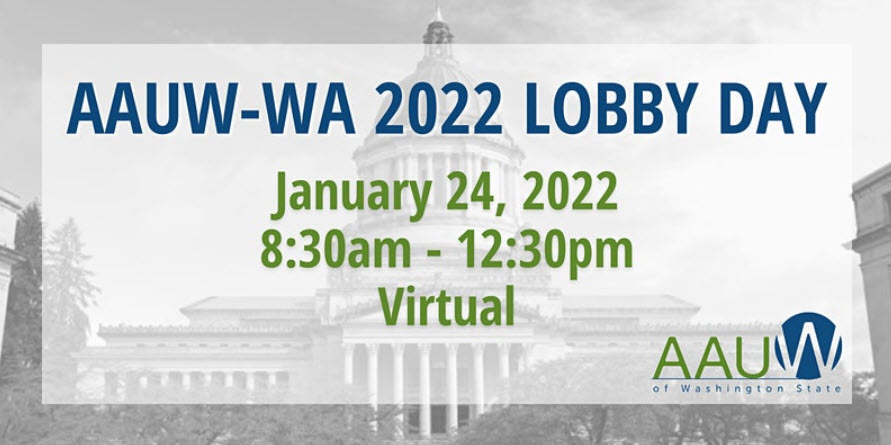 Lobby Days are coming 2022 – save the dates – ask your branch members to participate!
Registration opens for Lobby Day — registration fee $15 — click here for Eventbrite registration…
1/5/22 — 5 – 6 pm — Keep Our Care Act event [SB5335, the "hospital merger bill"] – a panel discussion facilitated by ACLU-WA and co-hosted by AAUW-WA
1/10/22 Washington State Legislative Session opens. For 2022 we have a Short List of Bills to spotlight on Lobby Day and a Long List of Bills that branches and members can review and consider for individual support during the session. We receive UPDATE REPORTS from our AAUW lobbyist – click to see reports as fast as they arrive weekly…
1/24/22 MONDAY — AAUW-WA Lobby Day — 9 am to 12:30 pm – DETAILS…
— Week of January 24 – meet with your legislators.
SEE BELOW – DO YOU KNOW ABOUT THE BILL-TRACKING NATIONAL WEBSITE? BILLTRACK50.COM? Click here to sign up for your own account or email publicpolicy@aauw-wa to use the AAUW-WA account to see preset bill sheets and legislator scorecards (click for 2021 Washington Legislators' Scorecard…).
---
JANUARY 10, 2022 WASHINGTON STATE LEGISLATIVE SESSION OPENS – Our Lobbyist, Nancy Sapiro, will provide an update on the 2022 session. A panel of branch Public Policy leaders will discuss the bills we are supporting for Lobby Day – and provide talking points for you to use when you meet with your legislators. We will hear from experts about several bills such as Keep Our Care Act (hospital mergers) and Missing and Murdered Indigenous Women.
We won't have a final list of bills or speakers until after January 5th. We anticipate some good bills will be introduced at the beginning of the session that we will need national to vet before we can support them