Action in 2019!
State Annual Meeting – Bellingham – April 12-13. Click here for details…
Lobby Day in Olympia – Monday Jan. 28
Luncheon and speakers on Monday.
Click here for details…
---
2018 Recap
We attended our Summer Leadership Conference – Aug. 24-25 in Ellensburg.
Friday started with a strategic planning session.  For more details, click here…
July Tech Trek camps were awesome! Check out some of their photos and get signed up to follow them on Facebook – click here…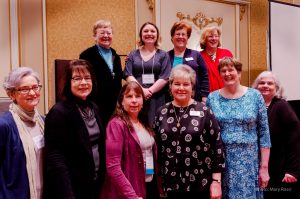 April 27-29, 2018 State Convention, Spokane – installation of new officers – click here for details…
For current newsletter — Evergreen Leader — click link under AAUW Links or Resources
---

AAUW-WA is a charitable, non-profit organization in Washington State which works to change the climate for women and girls.  We accomplish this through education, research, advocacy and philanthropy.  View this video for more…

Our members belong to branches in Washington State which are rural and urban, big and small.  We are even virtual with our online branch.  Our branches include Anacortes, Bellingham, Clallam, Colville, Cowlitz, Dayton, Edmonds-SnoKing, Everett, Federal Way, Gig Harbor, Highline, Hudson's Bay, Issaquah, Kirkland-Redmond, Lake Washington, Lewis County, Mt. Vernon, Olympia, Palouse-Garfield, Port Townsend, Puyallup Valley, Ritzville, Seattle, South King County, Spokane, Stanwood-Camano, Tacoma, Tri-Cities, Twin Harbors, Vancouver, Walla-Walla, Washington Online, Wenatchee, Whidbey Island, and Willapacific

The Latest Evergreen Leader is in the side panel of links.
Privacy Policy     Terms and Conditions