For current newsletter — Evergreen Leader — click link under AAUW Links or Resources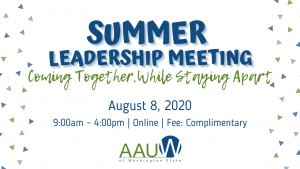 Click here for conference details…
We had an information packed day that will help us plan for AAUW – WA's new reality — doing our essential work in an environment that requires that we work together while at the very least staying socially distanced, and most often, totally apart. We know that each of your branches is facing the challenge of remaining relevant while staying at home, and we hope we can provide you with ideas and tools that will allow you to have a successful and productive year.
While we can't be at the same place at the same time in person, we can use the tools of technology to make collaborating and communicating much easier. We will discuss ways to move forward and keep our members engaged and committed.
What's Happening in 2020?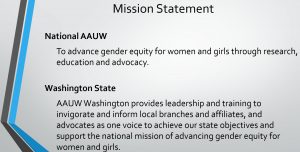 In this time of health crisis over many months, all Board events are being held online. You are welcome to attend. Request information from president@aauw-wa.org
Aug. 8 2020 State Leadership Conference – ONLINE
Click here for details…
---
Jan. 27 – Lobby Day in Olympia – click here for info…
Apr. 17-19 CANCELLED Western Regional States' Conference – click here for info…
CANCELLED July Tech Trek STEM camps at Pacific Lutheran University, Tacoma and Eastern Washington University, Cheney. Click here for Tech Trek website and info…
---
2019 Recap
Aug. 24, 2019 – Summer Leadership Conference – Wenatchee. Click here for presentations…
July 2019 Tech Trek camps so exciting! Click here for details…
State Annual Meeting – Bellingham – April 12-13, 2019. Click here for details…
Lobby Day in Olympia – Jan. 28, 2019. 
Click here for details…
---
2018 Recap
Aug. 24-25, 2018 Summer Leadership Conference Ellensburg. For more details, click here…
July 2018 Tech Trek camps were awesome! Check out some of their photos and get signed up to follow them on Facebook – click here…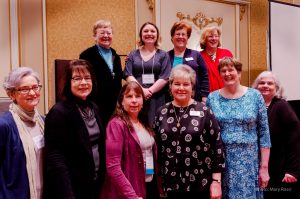 April 27-29, 2018 State Convention, Spokane  – click here for details…
---

AAUW-WA is a charitable, non-profit organization in Washington State which works to change the climate for women and girls.  We accomplish this through education, research, advocacy and philanthropy.  View this video for more…

Our members belong to branches in Washington State which are rural and urban, big and small.  We are even virtual with our online branch.  Our branches include Anacortes, Bellingham, Clallam, Colville, Cowlitz, Dayton, Edmonds-SnoKing, Everett, Federal Way, Gig Harbor, Highline, Hudson's Bay, Issaquah, Kirkland-Redmond, Lake Washington, Lewis County, Mt. Vernon, Olympia, Palouse-Garfield, Port Townsend, Puyallup Valley, Ritzville, Seattle, South King County, Spokane, Stanwood-Camano, Tacoma, Tri-Cities, Twin Harbors, Vancouver, Walla-Walla, Washington Online, Wenatchee, Whidbey Island, and Willapacific

The Latest Evergreen Leader is in the side panel of links.
Privacy Policy     Terms and Conditions