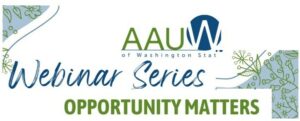 FALL 2023 WEBINARS ON TUESDAYS — CLICK FOR DETAILS and REGISTRATION…
Webinar November 14: Jessica Gerdes, Manager of Outreach and Mentorship at the Department of Translational Medicine and Physiology at Washington State University. Her program addresses the shortage of healthcare providers in our state's rural areas. FALL 2023 WEBINARS ON TUESDAYS — CLICK FOR DETAILS and REGISTRATION…
November 19 – Seattle branch hosts live and online/ZOOM event to meet Patricia Whitefoot, noted elder of the Yakama Nation. Register to attend…
Webinar December 12: Grace Yoo, Executive Director of the Washington State Women's Commission. She will discuss the work of the commission and providing opportunities for women in leadership. FALL 2023 WEBINARS ON TUESDAYS — CLICK FOR DETAILS and REGISTRATION…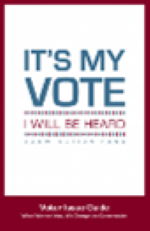 January 8, 2024 – Washington Legislature opens and our Public Policy committee is ready. Read more…
January 22, 2024 – LOBBY DAY ONLINE EVENT – Meet others from across the state and talk directly with lobbyist and office holders. Read more…
---
PAST EVENTS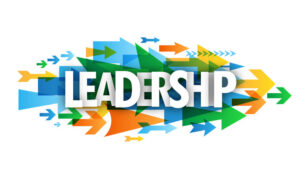 Sat. August 5 – Summer AAUW WA Leadership Meeting. Click for details and links to recorded presentations…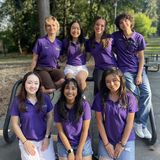 Weeks of July 9 and July 16 – Tech Trek camps at PLU/Pacific Lutheran University. See details on the Tech Trek website – click here…
July 17 – 7pm – Online Branch hosting panel discussion Missing and Murdered Indigenous Women – Cultivating Allyship. Read more on our Diversity/DEI web page of current activities for this event and several more happening at our branches…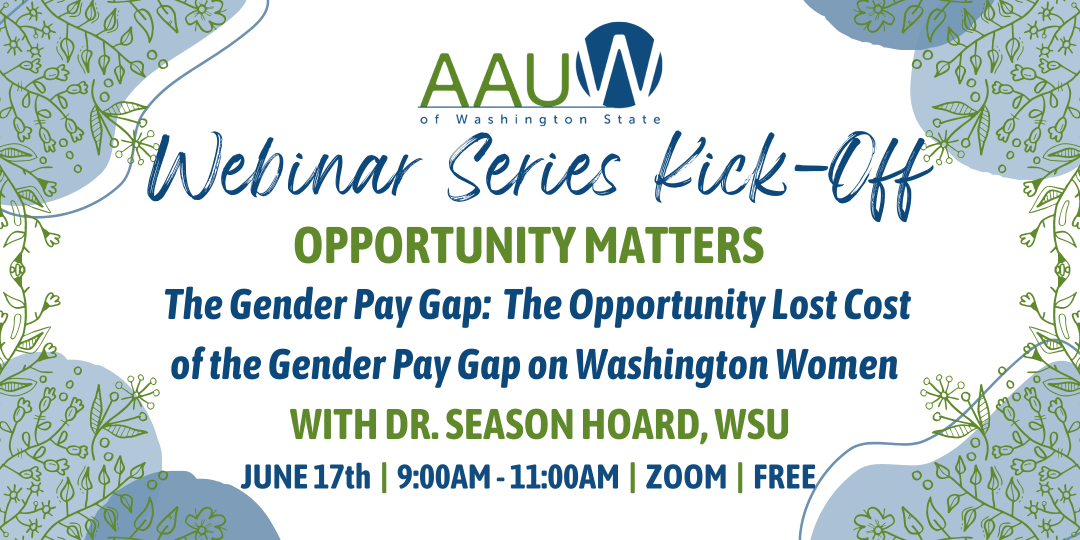 Saturday, June 17 – 9am Our first speaker for the 2023-24 Webinar Series, OPPORTUNITY MATTERS, our 3rd Annual Webinar Series. Dr. Season Hoard, Professor at WSU. Click for more info…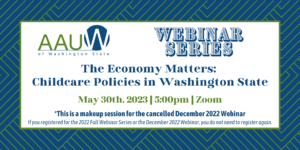 Tuesday May 30, 2023 – Last of our 2022-23 Webinar series – speaker Senator Claire Wilson. The Economy Matters: Childcare Policy in Washington State featuring Senator Claire Wilson. In addition to discussing childcare, Senator Wilson will review the recent legislative session. She will also touch on the struggles Washington women face when balancing outside responsibilities such as eldercare and their impact on pay equity, and lifetime and retirement income.
March 27 – online event for exploring diversity issues. Click for info…
April 24 – Diversity webinar from AAUW national  to aid our members to prepare to celebrate Diversity Month in April and the World Day for Cultural Diversity on May 21. Details and link to register, click here…
Mar. 14 EQUAL PAY DAY – read more –>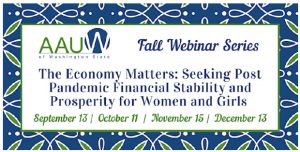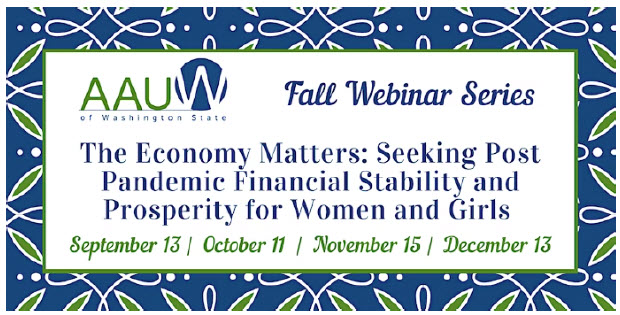 Click for details about the Fall 2022 Webinar series.
Check out the video and tips from the Communications forum – Sept. 2022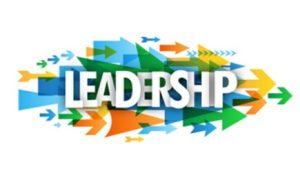 Aug. 13 Summer Leadership Meeting —
Details click here…
July 10-23 — 2022 Tech Trek Camps – Read more about it….
AAUW 50th anniversary celebration June 23. Washington State has a strong Title IX history that includes the landmark 1979 Supreme Court case Blair v. Washington State University that set a precedent for how Washington's public colleges and universities support women's athletics. Colleges (like WSU) and sports organizations are celebrating Title IX's 50-year anniversary.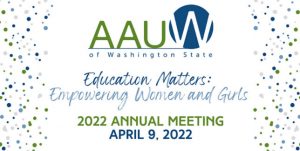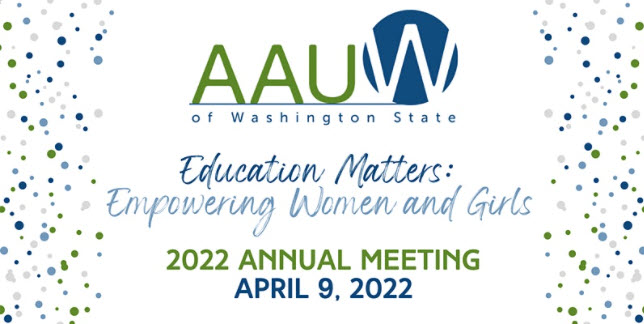 March 30, 2022 – Statewide book group meeting to prepare for April 9 conference speaker. Click for details…
April 9, 2022 – State AAUW Annual Conference. Read more…
January 2022 – LOBBY DAY/S – Our ONLINE VIRTUAL event was preceded by meetings and then BRANCHES met with their legislators. A success! Did you miss the event? No problem – see videos and details – click here…
2022 Washington Legislative actions and AAUW supported bills. Check out the updates…
---
State AAUW of Washington event archive back to 2014 – click here…