NOVEMBER 15 – WEBINAR #4
DECEMBER 13 – WEBINAR #5
PAST EVENTS
Check out the video and tips from the Communications forum – Sept. 2022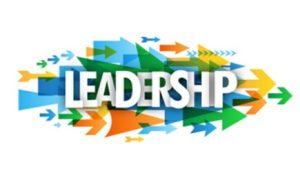 Aug. 13 Summer Leadership Meeting — ONLINE ZOOM
Details click here…
July 10-23 — 2022 Tech Trek Camps – Read more about it….
AAUW 50th anniversary celebration June 23. Washington State has a strong Title IX history that includes the landmark 1979 Supreme Court case Blair v. Washington State University that set a precedent for how Washington's public colleges and universities support women's athletics. Colleges (like WSU) and sports organizations are celebrating Title IX's 50-year anniversary.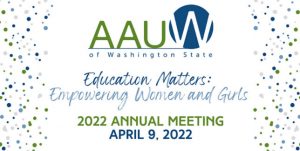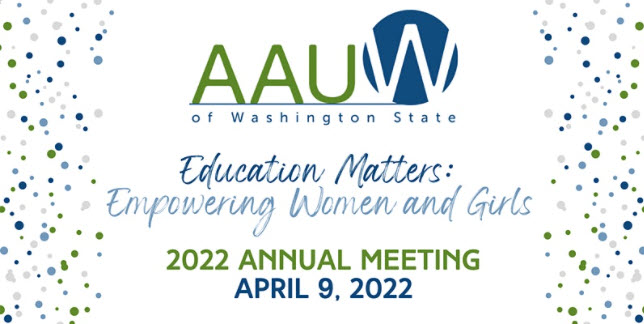 March 30, 2022 – Statewide book group meeting to prepare for April 9 conference speaker. Click for details…
April 9, 2022 – State AAUW Annual Conference. Read more…
January 2022 – LOBBY DAY/S – Our ONLINE VIRTUAL event was preceded by meetings and then BRANCHES met with their legislators. A success! Did you miss the event? No problem – see videos and details – click here…
We continue to follow the Washington Legislative actions and AAUW supported bills. Check out the updates…
Feb. 17 – Celebrating Title IX – 50 Years of Breaking Barriers: A Review of Title IX–On Campus, in the Courts and with AAUW LAF. Click for details and sign-up for online presentation…
Aug. 7, 2021 Summer Leadership Conference click here
July 11-16 — 2021 Teck Trek Camp – Virtual!. Read more about it….
June 12, Saturday – Women's Health Summit — via Zoom – click here for details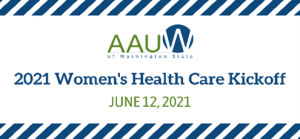 Click for details of our terrific State Convention held April 17…
2021 — Feb. 1 Monday – LOBBY DAY virtually
Karen Anderson, our Public Policy director and Nancy Sapiro, our new lobbyist have presented a virtual Lobby Day for 138 of our members across the state.
Click for details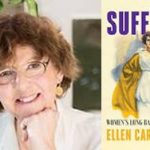 Nov. 2, 2020  Ellen Dubois, author of Suffrage: Women's Long Battle for the Vote,  conducted a Zoom meeting with AAUW-WA members,  Click for details…
In this time of health crisis over many months, all Board events are being held online. You are welcome to attend. Request information from president@aauw-wa.org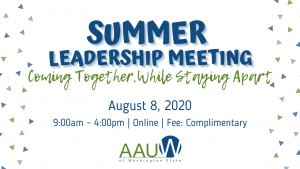 August 2020 State Leadership Conference – ONLINE
We had an excellent day VIRTUALLY!
Click for presentations and details…
January 2020 Lobby Day – Click for details…
CANCELLED April 17-19, 2020 – multi-state AAUW convention in Vancouver, Washington. Click for details…
CANCELLED July Tech Trek STEM camps at Pacific Lutheran University, Tacoma and Eastern Washington University, Cheney. Click here for Tech Trek website and info…
2019 Events
August 2019 State Leadership Conference – Wenatchee – Click for presentations…
April 2019 Annual Meeting in Bellingham
Special speakers: Kim Churches, CEO of national AAUW, Amy Klosterman, Title IX attorney, Washington State Representative Sharon Shewmake, immigration attorneys Sanchez and Pai.
January 2019 Lobby Day – Olympia
Speakers include Fajer Saeed Ebrahim, a specialist on reproductive justice with Legal Voice, and Pam Crone, a lawyer and lobbyist who has represented AAUW-WA, Legal Voice, and other clients in Olympia.
Get details — click here…
---
2018 Events
August 2018 Summer Leadership Meeting – Ellensburg
Our summer meeting had a wide-ranging choice of workshops and presentations.

State Convention April 2018 – Spokane
3-day program details and recordings of presentations – click here….
Photos from Lobby Day 2018 Jan. 29 in Olympia
We lobbied in Olympia to advance AAUW's legislative goals. The focus was Equal Pay (again!) and the Student Loan Bill of Rights. Our speakers were Washington Attorney General Rob Ferguson, a strong advocate for student loan legislation; Representative Tana Senn, a sponsor of our equal pay bill; and Pam Crone, our lobbyist.
2017 Events
Summer Leadership Conference 2017
Holmes Center in Ellensburg on Saturday, August 19
National AAUW Convention 2017
Washington State had 27 attendees
2016 Events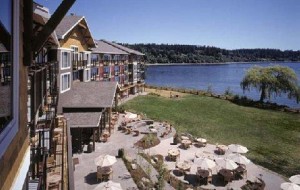 AAUW-WA Convention 2016
April 22-24
Suquamish Clearwater Casino Resort,  Suquamish, WA
April 22 Board Meeting, Training, Reception/Dinner, and Opening Evening
April 23 Convention, Annual Meeting and Elections, and Leadership Development
April 24 Convention over by noon
2015 Events
August 2015 — The Women of AAUW WA gathered in Ellensburg for work and play.
45 great women from all over the state met, shared ideas, learned new skills and left renewed. If you didn't attend this meeting in August, 2015, you missed a great event. We will be posting more on this website.
San Diego, California, 2015 National Convention
Click for Review of the 2015 National Conference – By attendees