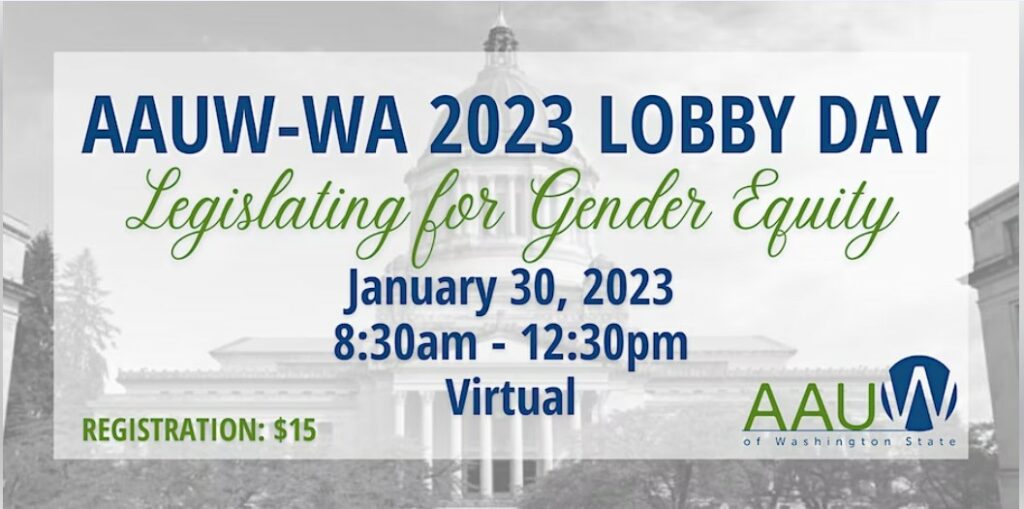 Monday January 30, 2023, with Lobby Week Monday January 30 through February 3. The theme for Lobby Day: Legislation and Gender Equity.
AAUW-WA Public Policy: Nancy Sapiro
Sex, gender and Engineering: Harassment at Work and at Home Professor Denise Wilson, University of Washington, College of Engineering & Professor Jennifer VanAntwerp, Calvin University
Apprenticeship Programs in Washington State Kelly Jenkins-Pultz, Department of Labor, District 9, Women's Bureau
Broadband access and digital literacy in Washington State | Digital Equity Sharonne Navas, Equity in Education Coalition.  Cathy MacCaul, AARP Advocacy Director
Our Keynote Speakers were Professors and Authors Denise Wilson of the University of Washington School of Engineering and Jennifer VanAntwerp of Calvin University. They co-authored "Sex, Gender, and Engineering: Harassment at Work and in School" which will be used as a textbook in the Spring of 2023. You can read more on the UW webpage.
Attendees heard what undergraduates will be taught at UW and the importance of laws we pass to ensure diversity, equity and inclusion courses are taught in schools, AND that sex and gender equity is included. DEI is a required course in higher education in Washington state thanks to a recent law passed, but the law doesn't explicitly call out sex and gender. Denise's book and course will ensure sex and gender equity are included in at least one UW Department!
Lobby Day featured a leading expert in broadband access. Something we all need to lean more about. Both the state and national policy teams agree that access to internet is critical in this day and age. It's linked to education, healthcare, economic security, voting access, and more. National approved our state adding Broadband as a Public Policy Priority (PPP) [read more…] Lobby Day is a great opportunity for us to learn more about why this is an important women's issue.
Contact the Public Policy Committee pubicpolicy@aauw-wa.org for details or your local AAUW WA branch.
---
Lobby Day 2022 archive videos and presentations…
For a review of the 2022 legislative season, read full reports at our web page…