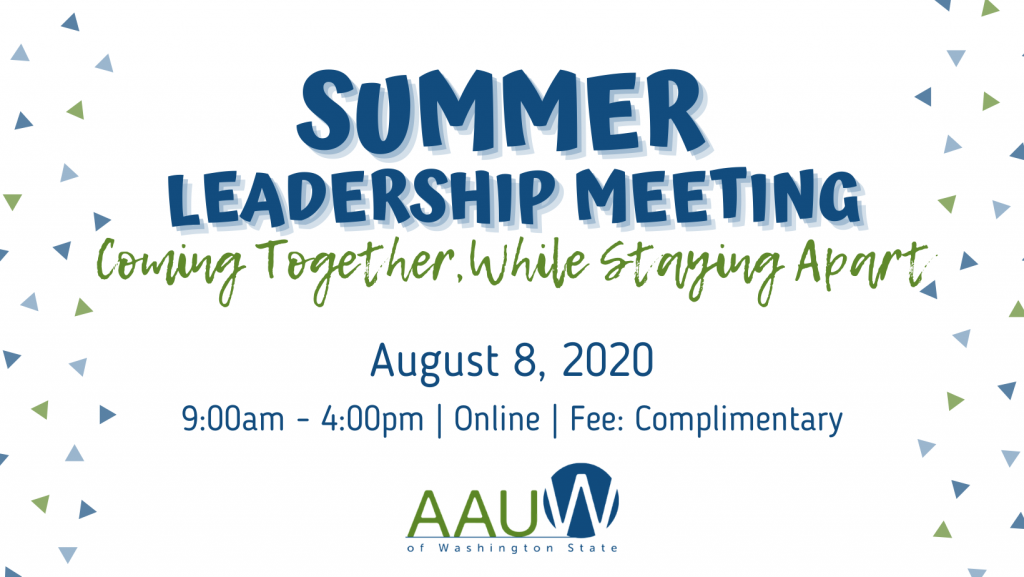 Saturday, August 8, 2020
8:45 AM — Zoom doors open
9:00 AM – 9:50 AM — Breakfast with Kim – National AAUW
download/print this presentation…
9:50 AM – 10:00 AM — Break
10:00 AM – 11:50 AM —
Five Star Program
download/print this presentation…
This program provides a framework for aligning your branch's work with the National strategic plan and initiatives that advance equity for women and girls. It can also be used as the foundation for developing your branch strategic plan. This session by India Nishi, past president of the Whatcom County branch, was one of the first two branches in the country to receive 5-Star certification
Walla Walla Program
download/print this presentation… Katharine Jones, President of the Walla Walla Branch, the largest branch in Washington State talks about ways the branch attracts and retains members, particularly younger women
12:00 Noon – 1:10 PM — Lunch with Barbara Callander – 2020 Women's Vote Centennial Initiative
download/print resources gathered by Barbara… May's Vote, a 2-character play about the two women who led the suffrage campaign that won the vote for women in Washington State in 1910, was set to tour the state. Barbara has researched suffrage history extensively.
1:15 PM — 2:30 PM — Public Policy – Lobby Day
download/print this presentation… Information about the transition of Lobby Day and our Public Policy initiatives to a virtual platform. Board VP and Director for Public Policy Karen Anderson will provide you information about our plan to continue this essential work.
Public Policy – Hold Cafe Events in your Community
download/print this presentation… Sandra Ripley Distelhorst from the Edmonds-SnoKing Branch conducted a very successful Public Policy Cafe last year. The Board is hoping to take the Cafe concept state wide, and will need your help to be able to do so. Here is the website to study more about this event model —  http://www.theworldcafe.com
2:40 PM — 3:10 PM — Leadership Breakouts
FYI: See short bio's on our State Officers – click here…
Mary — Presidents and related leaders
Kyle — Finance leaders
Susie — Secretary leaders
Yvonne — College/University leaders [download/print this presentation…]
Judy — Membership leaders
Mary — Book Clubs etc.
Karen M. — Tech Trek
India — 5 Star program
Karen A./Sandra — Public Policy leaders
3:15 PM — 3:45 PM — Regional Breakouts
Yvonne Region 1 [download/print this presentation…] East – Colville, Palouse-Garfield, Ritzville, Spokane
Judy Region 2 Central – Dayton, , Tri-Cities, Walla Walla, Wenatchee
India Region 3 Northwest – Anacortes, Bellingham, Clallam, Everett, Mount Vernon, Port Townsend, Stanwood-Camano Island, Whidbey Island
Susie Region 4 North Puget Sound – Edmonds-SnoKing, Highline, Issaquah, Kirkland-Redmond, Lake Washington, Seattle, Southeast King County
Karen A./Sandra Region 5 South Puget Sound – Federal Way, Gig Harbor, Olympia, Puyallup Valley, Tacoma
Karen M. Region 6 Southwest – Cowlitz County, Hudson's Bay, Lewis County, Twin Harbors, Vancouver, Willapacific
3:45 PM — Wrap-Up
From Mary Williams – President
Begin your day with a cup of coffee, your favorite breakfast and your favorite device. AAUW National CEO Kim Churches will join us in a webinar where she will discuss how AAUW plans to remain relevant and vital despite the current pandemic.
India Nishi, one of our newest Directors will introduce AAUW – National's 5 Star Initiative and discuss how we plan to help your branch earn some stars. fivestar@aauw-wa.org Read more about it on national website: www.aauw.org/resources/member/initiatives/ 
Noon – Lunch with Barbara Callander
After lunch we will offer a variety of additional sessions designed to help your branch succeed in these difficult times. We are planning sessions on Public Policy, Virtual Technology, and Addressing the Needs of Younger Members, among others.
We will conclude our day in small group breakout meetings with leaders from the other branches in your region. Discussions will focus on how we can work together to create engaging programs and share ideas that will make us all successful.
We've planned an exciting day and hope you will join us.