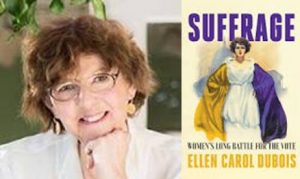 Ellen Dubois, professor emeritus of history at UCLA, has agreed to conduct a Zoom meeting with AAUW-WA members on Monday, Nov. 2, 2020, at 1:00 pm.
She will focus on her recent book, Suffrage: Women's Long Battle for the Vote. An eminent women's historian, Dubois has published several books on woman suffrage over her long career, culminating in this broadly inclusive analysis of the long history of the struggle for all women to obtain this basic right of citizenship.
You should read the book beforehand to benefit fully from this opportunity. It is available from Amazon, Barnes & Noble or a bookseller near you.
Those who want to know more about the history of this struggle can do no better than to start with Suffrage, which has received very positive reviews. The Guardian, for example, wrote that "Ellen Carol DuBois has written a comprehensive history that deftly tackles intricate political complexities and conflicts and still somehow reads with nail-biting suspense." [click here to read full text…]
Kirkus Reviews called it an "authoritative, brisk, and sharply drawn history." [click here to read full text…
If you are interested in participating, or would like more information, please contact Karen Anderson at advocacy@aauw-wa.org .