SPOKANE – APRIL 27 – 29, 2018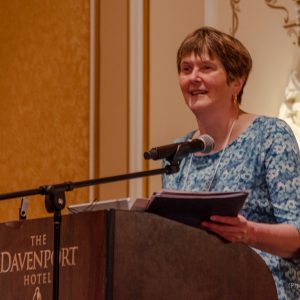 Our speakers and their organizations advocate for equality; support equal access to educational, pursue professional opportunities for women and girls; promote women in leadership; and push to make our communities a better place to live and thrive.
Photos: Judy Prince, President; Dr. Bonnie Dunbar; Delancey Lane; S'Heros fun photo of Port Townsend attendees; incoming State Board members; Eileen Baratuci introducing Sue Guenter-Schlesinger and Kim Anderson. See more photos on our Facebook album…

DAILY SCHEDULE – CLICK HERE TO READ/PRINT…
SPEAKER BIO'S – CLICK HERE TO READ/PRINT…
Highlights of the program:
Learn how to improve our branches and connect with groups helping to improve their community
Hear an insider's view from The Gates Foundation and an update from AAUW National
Discuss with Washington State Legislators key legislation amending equal pay laws and ensuring fair hiring practices
Hear explanations from University EEO Officers how to retain a broad scope for Title IX, despite federal changes
Join Tech Trek participants and volunteers to see how our camps inspired them
Learn about the student debt crisis, the impact on women graduates and discuss what needs to change
Explore the challenges women face in the workplace, from a generational perspective from boomers to millennials
Learn how to recruit and train women for leadership roles now and in the future.