We've got the videos of our zoom meetings for your viewing pleasure at YOUTUBE:
National Bylaws Vote for Inclusive Membership | Kim Churches, AAUW CEO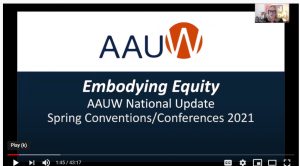 Education Post-Pandemic | Dr. Michaela Miller, OSPI Deputy Superintendent
Employment Outlook for Women Post-COVID, Getting Back What We've Lost | Lisa Maatz, Keynote Presentation
Discussion on Writing Historical Fiction | Barbara Pope Virginia Scharff, Authors
Thank you Jeanie Glaspell — AAUW WA Program Director — programs@aauw-wa.org
"I'm looking forward to 2021 as a year of recovery and renewed energy, a time to get back to work.  It's in that spirit that I'm looking forward to our full-day Annual Meeting…you can expect to hear inspirational speakers remind us that our work can go forward with new vision."
8:30 am Annual State business meeting for branch delegates and interested observers. All about the business of maintaining a vibrant state organization.
Election of our 2021-23 State Officers
Review and potential adoption of any proposed changes to our Bylaws and Policies and Procedures
Adoption of AAUW-WA Public Policy Priorities
Consideration of any resolutions proposed by the Board or Branches
Afternoon starting at 12 noon — Special Presentations
Informative and energizing speakers will keep us up to date on topics of particular interest.
AAUW-National regarding the proposed Bylaws amendment – speaker probably AAUW CEO Kim Churches
An OSPI official about the current state of public education
Lisa Maatz on the current employment outlook for women and how AAUW might respond to the challenges.  Many of you will remember Lisa as National's Vice President of Government Relations and Advocacy for many years.
Historians Barbara Corrado Pope and Virginia Scharff will discuss the challenges and opportunities they have faced writing historical fiction.

Virginia Scharff is an Emeritus Distinguished Professor of History at the University of New Mexico. She is the author of four mystery suspense novels, written under the name of Virginia Swift: Brown-Eyed Girl (2000), Bad Company (2002), Bye, Bye, Love (2004), and Hello, Stranger (2006). Her last historical work was The Women Jefferson Loved. She is currently working on a novel set in Revolutionary France.
Barbara Corrado Pope, a professor emerita at the University of Oregon, is a novelist, historian, a former director of Clark Honors College at the University of Oregon. She is also the founding director of Women's and Gender Studies at Oregon. Her novels, all set in nineteenth century France, include Cezanne's Quarry, The Blood of Lorraine, and The Missing Italian Girl.
Please join us for a fun and interesting discussion of the connections between writing history and writing historical fiction.