Annual Meeting April 12-13 2019
Holiday Inn, Bellingham International Airport
Click here to read/print the program.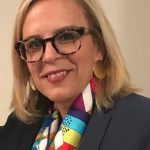 The meeting starts with dinner on Friday and continues through a day of speakers and workshops on Saturday. Kim Churches is our dinner speaker, CEO of national AAUW. This is our chance to hear how AAUW will continue to be relevant in the 21st Century. CLICK HERE TO READ/PRINT PRESENTATION…
Read more about Kim…
Speakers for Saturday:
Keynote – Immigration Rights – Helping Families, Women and Children in a Time of Need – attorneys Leta Sanchez and Holly Pai. CLICK HERE TO READ/PRINT PRESENTATION…
Amy Klosterman, Title IX attorney who speaks about her experience in the US Office of Civil Rights.
We elect the Secretary and 2 board members at the meeting.
Representative Sharon Shewmake with Bellingham Branch President Judith Entwife
Former WA President Judy Prince talks with Edmonds SnoKing members
AAUW CEO Kim Churches with Bellingham branch members
Friday night dinner crowd