Monday, January 28, 2019
8 am to 1 pm
St. John's Episcopal Church
114 20th Ave SE, Olympia
Sunday night lodging at the Hilton Garden Inn in Olympia
Our speakers include Fajer Saeed Ebrahim, a specialist on reproductive justice with Legal Voice, and Pam Crone, a lawyer and lobbyist who has represented AAUW-WA, Legal Voice, and other clients in Olympia for over 18 years. Pam's legal and lobbying expertise covers a wide variety of issues, including women's and LGBTQ legal rights, domestic violence, homelessness, and other economic and social justice issues. She has also taught law at the Seattle University and the University of Washington Schools of Law.
Learn more about these issues by reading Eileen Baratuci's article in our Fall 2018 Evergreen newsletter – click and read page 3…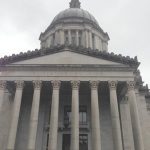 Fajer will speak about the state of Washington laws regarding reproductive justice and sexual assault on college campuses. Pam will update us on the specific laws we are stressing this year as we unleash our forces on the legislature.
Organized by our Board Public Policy Chair – Karen Anderson
advocacy@aauw-wa.org
LUNCH
You have choices for lunch: three different half sandwiches, half salad boxes or two salad boxes.
— Half Sandwich, Half Salad Box
Turkey with Seasonal Greens or Greek Salad
Ham & Cheese with Seasonal Greens or Greek Salad
Tuna Salad with Seasonal Greens or Greek Salad
— Salad Box: salad, piece of Baguette and a cookie
Seasonal Greens Salad
Greek Salad
Contact us 425-422-2833 if you have to have a change to your lunch order.
Registration $25 per person – click here to register…
If you are spending Sunday night in Olympia, the state board is staying at the Hilton Garden Inn. Call Christy Vasquez at 360-357-2972 to reserve a room at a reduced rate. The board has not selected a restaurant for Sunday evening, but please let me know if you would like to join us: president@aauw-wa.org .