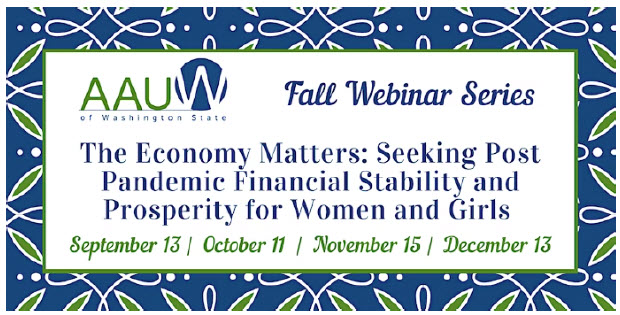 CLICK HERE TO REGISTER FOR WEBINAR SERIES –>
From President Williams, "In 2021 we had our first mission-based webinar series – Our Health Matters – and they were well attended and informative. In 2022-23 we continue with the second series focusing on the impact of the economy on women and girls. One of the reasons we decided to offer these series is to provide our branches with ready-made mission-based programming. We hope you will take advantage of this opportunity to dig deeper into how each of these topics impact you, your family, and your community."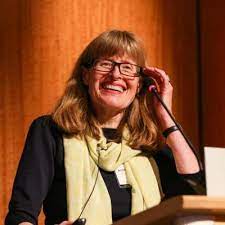 JUNE 11 — THE ECONOMY MATTERS: What we need to do to provide financial stability and prosperity for women and girls in the post-pandemic era. Our keynote speaker is Ariane Hegewisch, Program Director of Employment and Earnings at the Institute for Women's Policy Research and a highly regarded authority on women's economic status.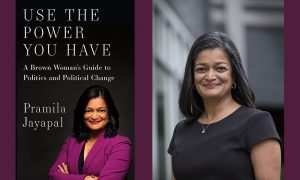 We include a short filmed statement from U.S. Congress Representative Pramila Jayapal, who is a staunch advocate for policies benefiting women.
September 13, Paula England of NYU will answer the question "Is the Gender Revolution Stalled?" by examining trends in women's status in recent decades. She is an eminent sociologist who has spent a lifetime examining women's issues, especially the wage gap.
October 11, Karen Dove, Executive Director of ANEW in Seattle, will speak on women's access to well-paying jobs in the building trades. ANEW provides quality training, including apprenticeships, and employment services to women and people from underserved communities in Washington.
November 15, Kelly Jones of American University, will speak on her research on the economic consequences for women of restricted access to reproductive services. Professor Jones is an applied microeconomist whose research examines the effects of various economic policies on gender equality and women's economic wellbeing.
December 13, State Senator Claire Wilson will speak on child-care policies in Washington state. Her expertise on the topic comes from 25 years working as an early childhood education administrator and as a legislator working to develop new policies to improve childcare access. She will be joined by Sarah Brady, the policy and advocacy manager for Child Care Resources of King County.